1Are you an Independent?
Yes. I have never been a member of a political party. My motivation to stand as a candidate for Division 9, came as a result of advocating for my community and surrounding communities regarding flight paths.
Our association focussed on facts, creating much awareness and attaining meetings with many high-level stakeholders. Members of the public asked if I would consider being the community's voice and run as a candidate for council.
After some discussion with family and friends, I received much support for this idea and decided to run as a candidate. Residents from Division 9 who are assisting me include members from both Liberal and Labor parties, people who staunchly only support independent candidates and most have a keen interest in the environment.
I have no intention to move into State or Federal politics as it is the community that I am passionate about not politics and I'd like to serve the people that I live with.
2Do you live in Division 9?
Yes. Both Doonan and Peregian Beach are suburbs that have been divided between the Sunshine Coast Regional Council and Noosa Council. I live in the section of Peregian Beach that is accessed from Murdering Creek Rd. This portion of the suburb is located in Division 9.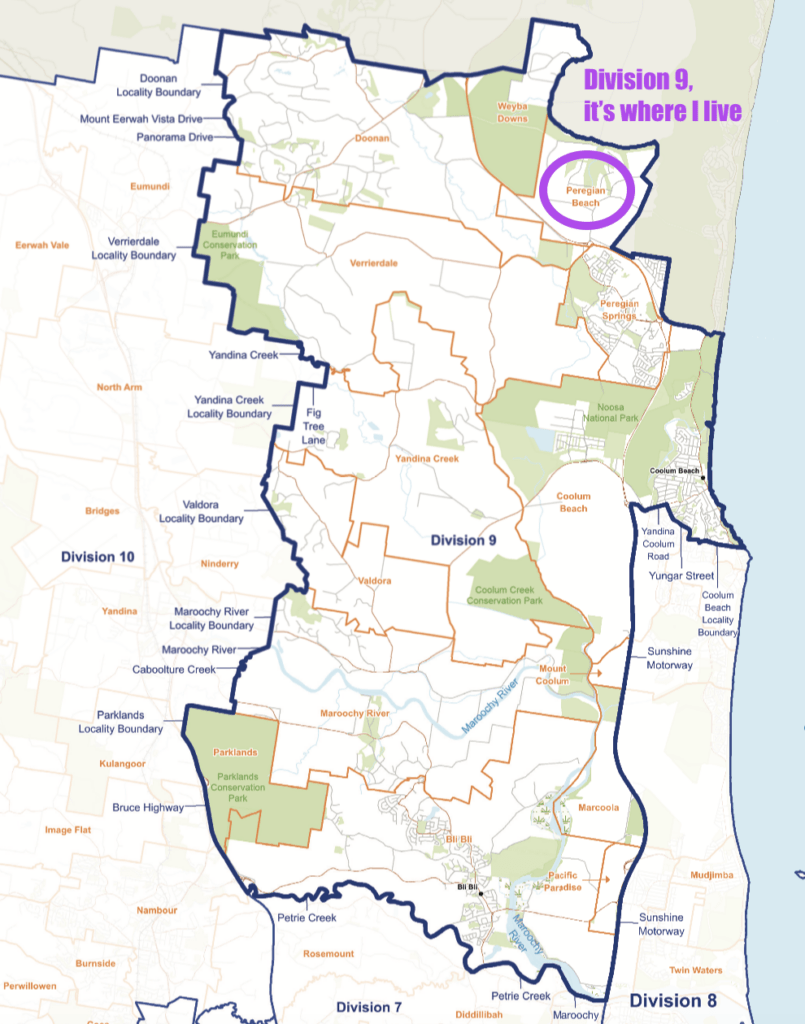 3Where does your name originate from?
It's a Spanish name. My father was from Asturias, Spain. My mother is Croatian. Both of my parents relocated to Australia in the late 1960's and met each other while living in Brisbane.
4What do the Purple Cockatoos mean?
The purple cockatoos is the brainchild of a couple of campaign supporters that live in Coolum.
After reading my announcement to stand as a candidate, Mike and Michael reached out to me as they felt our values aligned. We met and I spoke about disliking the necessary display of my face and name instead of just focusing on the issues and solutions.
It was their idea to come up with a symbol of support in lieu of a campaign sign. I've always loved the glossy black cockatoos, they are a vulnerable species and just like our region, need support and protection.
Michael and Mike began making the purple cockatoos out of recycled corflute and they've become so popular they are struggling to keep up with the demand. Cockatoos are popping up in Peregian Springs, Coolum, Verrierdale, Doonan and Bli Bli.
It became quite a talking point and people are still having conversations about what they mean. For some it's an 'aha' moment when they find out that the cockatoos are related to my campaign and kids love spotting them around town. It's been a fantastic grassroots initiative and I'm grateful for the efforts of the guys and to everyone who has displayed a cockatoo.
That's a big part of my vision for the next council. One that involves and engages the community a lot more than it has in the past.
If there are residents I haven't got to yet and who would like to display a Purple Cockatoo in support just contact me and I will be happy to have one delivered to you.